THE NEIGHBOURHOOD ENERGY EFFICIENCY PROJECT
HOW WE'RE CREATING PARTNERSHIPS TO INCREASE ACCESSIBILITY TO ENERGY EFFICIENCY
Making sure our energy efficiency programs are accessible to everyone is an important part of the work we do. One of the best ways to ensure Manitobans know we're here to help is meeting them where they are – right in the community.
Working together with us, the North End Community Renewal Corporation (NECRC) is actively engaging with North End residents to help them save energy and money using our Energy Efficiency Assistance Program. This joint initiative is called the Neighbourhood Energy Efficiency Project.
ABOUT THE NEIGHBOURHOOD ENERGY EFFICIENCY PROJECT
The Neighbourhood Energy Efficiency Project is an initiative to help Winnipeg's North End residents access energy-saving upgrades by participating in our Energy Efficiency Assistance Program. This is done by using a "block-by-block" approach, where an Energy Efficiency Advocate from NECRC canvasses a particular block each week from spring to fall, weather and conditions permitting. The advocate speaks to residents, encourages them to take part in the program, and helps them fill out an application. Residents living on these blocks are pre-qualified to participate without having to provide income verification documents, making the process even simpler.
Through the Energy Efficiency Assistance Program, eligible customers can receive a low-cost heating system upgrade, free insulation, and other energy-saving devices at no charge. Door-to-door canvassing gives residents who may not have otherwise heard about this offer the opportunity to learn and ask questions about it from trustworthy, knowledgeable experts.
THE PEOPLE IN THE COMMUNITY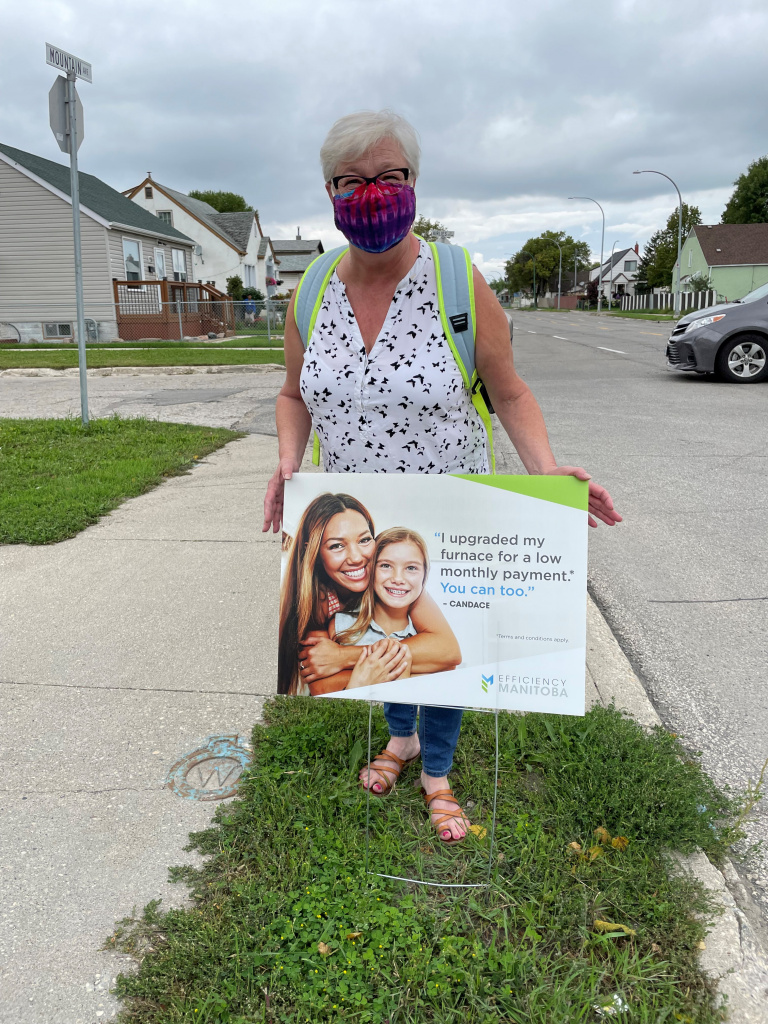 So, who are the friendly faces out and about in the neighbourhood? Meet Deborah, the Energy Efficiency Advocate for this project. A passionate supporter of community engagement, she appreciates the need for a targeted approach to reduce barriers to accessing energy efficiency programs.
"The North End has the youngest population in Winnipeg, and the median household income is less than half the Winnipeg average at $24,756," she told us. "Housing in the area is among the oldest stock in the city of Winnipeg, with over 50% of residences built before 1946."
This combination of factors means that many homes in the North End need energy-saving improvements, but residents may not be able to afford these upgrades. The Neighbourhood Energy Efficiency Project enables them to receive the upgrades they need to save energy, money, and the environment more easily.
"Recognizing the need for energy efficiency and acknowledging the value of community engagement, we're enthusiastic to share information, distribute materials, and facilitate community participation," Deborah added.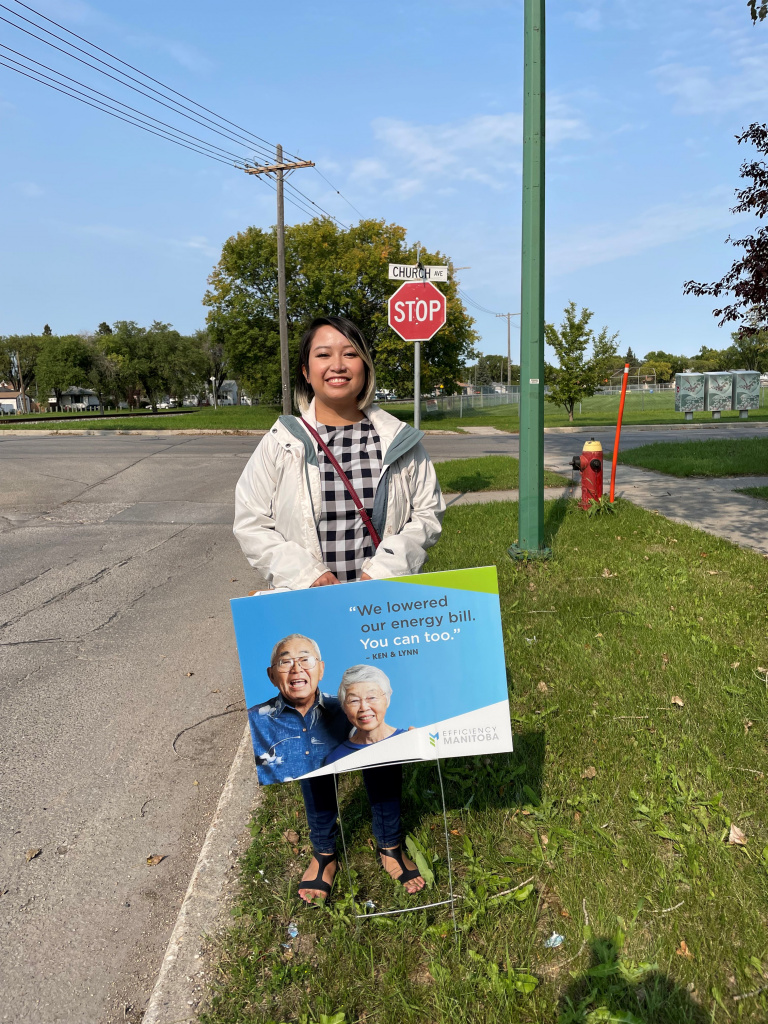 Deborah isn't the only person who's speaking to community members. Efficiency Manitoba's own Gabrielle also joins in on the canvassing events, offering her program and energy efficiency expertise to the residents she meets along the way. Hearing their stories is especially meaningful to her.
"Getting to talk to potential participants firsthand, I'm told of how their utility bills can be unpredictable and stressful and their budget can't account for such fluctuating high costs. It gives them peace of mind to know that programs like ours exist."
Some homeowners who aren't comfortable speaking English face different barriers when it comes to learning about our services. Gabrielle provides a unique service to reduce these barriers.
"I was able to talk to some older Filipino homeowners in our native language, Tagalog. This gave them the chance to ask further questions and learn more. Being understood and having the opportunity to express their stories, thoughts, and concerns about their home is a valuable experience our canvassing efforts allow for."
HELPING CUSTOMERS ALL YEAR
Even when canvassing finishes for the season, we're still here to help. Deborah continues to follow up with customers and provide them with guidance and support. She also attends meetings and events hosted within the community to get support from other organizations, build relationships, and reach potential customers.
---
Learn more about the Energy Efficiency Assistance Program
Check out the North End Community Renewal Corporation website