BDC small business week 2022
CELEBRATING THE ENTREPRENURIAL SPIRIT OF MANITOBA SMALL BUSINESSES
In October 2022, we celebrated BDC Small Business WeekTM by featuring a handful of Manitoba small businesses who are playing an important role in supporting economic growth.
We recently talked to five businesses who received energy efficiency upgrades through our Small Business Program and Indigenous Small Business Program. Here's what they had to say about their experience and how their upgrades are helping them save energy, reduce their energy bills, and grow their business.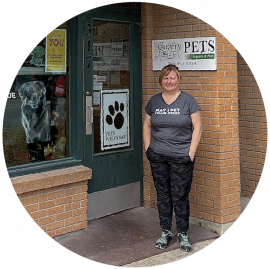 QUARRY PETS
Nicole Nagy, the owner of Quarry Pets in Stonewall, was looking to improve the lighting in her pet store. By participating in our Small Business Program, she was able to upgrade 136 of her linear lamps to LED. Not only will this upgrade help her save an estimated $400 on her energy bills, but we also covered 70% of the cost. This leaves her with more money to put back into her business. 
"Energy efficiency is important to me and my business because I feel it is important to save wherever I can," said Nicole. "I pay a lot on my energy bills for this old building, and redoing the lighting has made a difference already."  
Because Nicole's business is located in an older building, she's looking forward to taking on additional energy efficiency projects. 
"Saving in one place will help me pay for more efficiency building improvements like re-insulating the walls, as I currently have done with a portion of the building. Efficiency Manitoba's programs also help me address the rising costs in other areas of my business. Where I can save in one area, I can afford the extra expenses in other." 

Nicole Nagy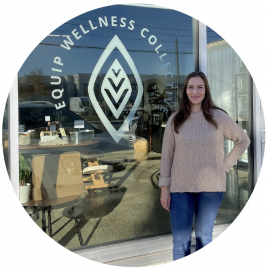 EQUIP WELLNESS COLLECTIVE
Equip Wellness Collective, located in Winnipeg's sunny St. James neighbourhood, is dedicated to providing products for massage therapy and alternative health practitioners. They're open to the public and offer a multitude of holistic and natural lifestyle products. We helped them upgrade to an energy-efficient lighting system by providing an incentive of nearly $1,600. In the end, they only had to pay $558 to enjoy a better-lit workspace that will save money on their energy bills for years into the future. 
"When the sales team explained the program, it was an easy choice to upgrade the lighting in our warehouse space," said Vanessa Stiles, owner of Equip Wellness Collective. "The cost savings made it possible to complete the project that otherwise would have been put off until we could afford it. 
"Everything was communicated clearly, the work was completed in a timely manner, and we're so grateful to reduce our overall energy bills, plus have better lighting in our workspace. I'd recommend this program to any small business owner!"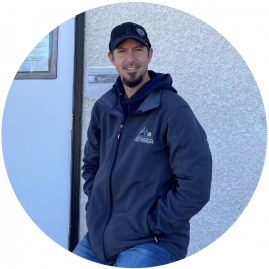 RURAL MUNICIPALITY OF WEST INTERLAKE
Our ongoing project with the Rural Municipality of West Interlake is unique in that we're helping to upgrade multiple businesses in Ashern and Eriksdale. An arena, a fire hall, a museum…there's lots of opportunities to make energy efficiency upgrades and help the RM cut their energy consumption and costs. 
We helped the RM of West Interlake install basic energy-saving devices, such as LED bulbs and low-flow bathroom aerators, kitchen aerators, and spray valves in eight businesses. Many of these buildings are also scheduled to receive smart thermostats and more extensive lighting, which will result in an estimated combined incentive of over $19,000. 
"The significant savings and generous cost sharing options offered through Efficiency Manitoba allowed us to complete these upgrades within our budget. Without this assistance, we would not have been able to tackle this amount of work on our own." 

Clayton Gibson
Economic Development Officer
RM of West Interlake
When we help Manitobans make energy efficiency improvements, we want to leave them feeling satisfied by the entire process—and Clayton was certainly satisfied. 
"It was a pleasure to work with Efficiency Manitoba and their partners to complete our projects from start to finish. These upgrades will have a positive impact on our community's energy usage for years to come."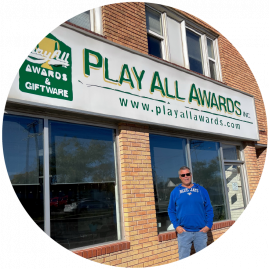 PLAYALL AWARDS
Bob Tuck, owner of PlayAll Awards in Winnipeg, was grateful that we offered a full-service solution to help him lower his energy costs through the Premium Upgrades of our Small Business Program.
"As a small business owner whose industry was hit extremely hard by the pandemic, we are always looking at ways to save money and move forward," Bob told us.  
Luckily, through our Small Business Program, we were able to help by upgrading 120 of their linear lamps to LEDs and replacing their existing thermostat to an ecobee smart thermostat. On top of the energy savings and lower operating costs PlayAll Awards will appreciate from these upgrades, Bob was eager to share how seamless the entire process was. 
"We were excited to be part of this program and not only was it easy to navigate and communicate but the technicians were extremely professional."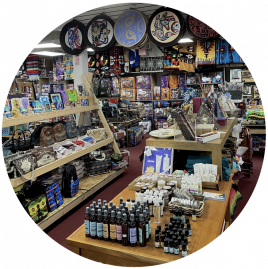 TEEKCA'S BOUTIQUE
Teekca's Boutique participated in our Indigenous Small Business Program. They carry a wealth of gifts, crafts, and other goods created by Indigenous artisans. They have expanded to operate in six locations across Manitoba – and they were looking for some upgrades to be made to their store on St. Matthews Avenue in Winnipeg. Our team was able to identify opportunities to improve the store's energy efficiency and reduce the energy bills. 
In total, we installed two bathroom faucet aerators, 30 LED linear lamps, and an ecobee smart thermostat. The incentive we provided Teekca's Boutique covered the entire cost of their upgrades, so owner Marilyn Tanner-Spence will enjoy energy savings and a better-lit shop for her customers at no cost. 
"I am very happy that I participated in the Indigenous Small Business Program because it helped me to have my lighting upgraded. I always worried about the waste of electricity using inefficient lighting. Today the store is brighter and more welcoming. Even installing a smart thermostat helps me to save money – if I forget to turn the temperature down, I can easily do it by using my phone." 

Marilyn Tanner-Spence
---
Want to improve the energy efficiency of your small business? Learn more about our Small Business Program and Indigenous Small Business Program.