Merit Functional Foods
HOW WE'RE SUPPORTING NEW ENERGY-EFFICIENT CONSTRUCTION
At Efficiency Manitoba, we're committed to providing all Manitobans with support to take on energy-saving projects, no matter how large or small. On Feature Fridays, we shine a spotlight on the Manitobans who have decided to start or continue their energy efficiency journey with our programs and incentives.
Today's featured customer is Merit Functional Foods ("Merit"), a plant-based protein supplier. When we learned about their plans to build a new state-of-the-art non-GMO pea and canola production facility in Winnipeg, we were ready and eager to support them in exploring energy efficiency opportunities.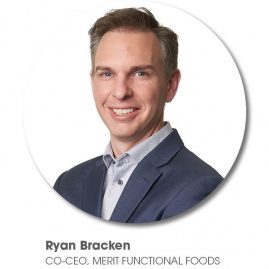 Ryan Bracken, the Co-CEO at Merit Functional Foods, is no stranger to efficiency efforts. Merit proudly sources their non-GMO peas and canola from the prairies, which reduces greenhouse gas emissions that result from transporting crops from farms to facilities. Peas are also a sustainable crop – they require less water to grow. They also take nitrogen from the air and store it in their roots, meaning less fertilizer is required.
It's this attitude towards sustainability in decision-making and process inputs that led to the selection of Winnipeg as the location for their new 94,000 square foot facility. "We chose Manitoba because of the reliable and renewable hydroelectric power supply," said Bracken.
With Merit's strong commitment to energy efficiency, sustainable manufacturing, and improved outcomes for our planet, we were excited to support them with incentives and technical expertise.
THE PROJECT
We worked closely with Merit to identify ways they could construct their facility and optimize their operations in a way that would deliver significant energy and cost savings. Two of our business programs were used to help with the project: the New Buildings Program and the Custom Energy Solutions Program.
Bracken was pleased with the application process. "It was extremely simple," he said. "The team we worked with was very hands-on and walked us through the process as well as assisted with applications."
We supported eight major processing-related energy efficiency opportunities. The most significant electricity savings come from the pump and fan systems installed with variable speed drive controls, which optimize process variables such as flow, temperature, and pH, that enable optimal production performance. Additional process-related electrical energy savings came from optimizing the facility's refrigeration and compressed air systems.
Substantial natural gas savings come from the implementation of heat recovery options associated with three large dryers as well as the installation of an economizer to increase the overall efficiency of the boiler.
We also provided Merit with support to complete an energy model to help incorporate energy efficiency into their building design and construction process. As a result, they'll also realize energy savings through the installation of energy-efficient lighting, improved heating, ventilating and air-conditioning systems, and a high-performance building envelope.
Our team of experts was there to help Merit through the entire process. "We had a great experience with the Efficiency Manitoba team members," Bracken remarked. "The team was always willing to provide help where needed. They always followed through on their commitments in terms of support and incentives, which was much appreciated."
CRUNCHING THE NUMBERS
In total, we provided Merit with $1.25 million in incentives; this financial benefit made for a convincing business case to go about incorporating energy efficiency into their new build. Impressively, these incentives reduced the paybacks on the incremental costs of the upgrades to less than two years!
The energy and bill savings shown below are equally as remarkable:
Estimated annual bill savings: $800,000
Estimated annual electricity savings: 8.16 GWh (gigawatt-hours)
Estimated annual natural gas savings: 1.63 million m3 (cubic metres)
Natural gas savings are expected to provide annual greenhouse gas emission reductions of over 3,000 tonnes of CO2e (carbon dioxide equivalent). By 2030, this will result in persisting cumulative reductions of over 24,000 tonnes of CO2e.
Merit isn't the only one benefitting from these savings. Reducing energy consumption in Manitoba delays the requirement to invest in new energy infrastructure. That results in overall energy rate benefits to all Manitobans.
WHAT'S NEXT?
Merit's energy efficiency journey is far from over. With plans for future plant expansion, Bracken expressed a commitment to continuously improving their facility and operations.
"I'd like to say thank you to Efficiency Manitoba for the support," said Bracken. "It has been a successful relationship so far, and we're looking forward to future partnerships in the years to come."
ABOUT MERIT FUNCTIONAL FOODS
Merit Functional Foods is a plant-based protein supplier based in Winnipeg. They produce non-GMO pea and canola proteins for use in food and beverage applications such as dairy alternatives, meat alternatives, and protein bars. Their ingredients are highly functional, nutritional, add enhanced value to the plant-based foods sector, and are 100% sourced on Canadian soil.
---