Getting started with solar
THINGS TO CONSIDER BEFORE INSTALLING YOUR SOLAR PV SYSTEM
Deciding if a solar photovoltaic (PV) system is right for you takes a trained eye.
Is my home or business ready for solar? How much solar do I need? Does my property have enough space for solar and where do I start if I decide to go ahead with a solar PV installation?
While we recommend speaking with a registered Efficiency Manitoba solar contractor to answer these questions, we'll introduce you to some important things to consider before installing a solar PV system.
IS SOLAR RIGHT FOR ME?
Solar PV systems are a great way to provide energy for your home or business in a sustainable manner and reduce your energy bills. However, solar PV systems are a big investment, so you need to know whether or not this technology is right for you. Doing some calculations to determine your financial investment and payback will help you with this decision. Check out our Solar Production Calculator article to help you estimate the energy production of your solar PV system.
You should also consider if your home or business is as energy efficient as possible. Do you have enough insulation? Have you upgraded to a high efficiency heating system? Are all your appliances energy efficient? It's generally more cost effective for you to improve your energy efficiency first so that you don't need as large of a solar PV system to accommodate your annual electricity usage. 
HOW MUCH SOLAR DO I NEED?
If you decide that the investment makes sense for you financially and you've already made the necessary energy efficiency upgrades, you'll have to determine how large of a solar PV system you need.
We recommend sizing your solar PV system appropriately to avoid exceeding the annual electricity usage of your home or business. This means that the amount of electricity your solar PV system produces should be comparable to the amount of electricity your home or business uses.
You should also consider any other upgrades you plan on making to your home or business that may impact your electricity usage in the future. Adding electric heat, installing air conditioning, or purchasing an electric vehicle will increase your usage, and any upgrades to improve energy efficiency will reduce your usage.
A solar PV system should produce electricity for at least 25 years, so it's important to think ahead so you can design a system that fits your long-term needs.
DO I HAVE SPACE FOR SOLAR PANELS?
Solar panels are large, so your property needs to have the space for the panels to be installed.
The optimal orientation for solar in Manitoba is facing due south with around 40° to 50° inclination. Panels are generally installed on a roof or on the ground. Ground systems are often more effective, as a rooftop system is limited to the direction the roof faces, which is not often due south, and the roof slope, which is generally lower than the ideal inclination.
Shading, snow, ice, dirt and future obstructions, such as trees, neighboring buildings, or new construction can also impact the suitability of solar at any given location. It is a good idea to speak with your neighbours about plans that could affect land use, such as the removal or addition of trees and home renovations. You should discuss this issue with your contractor to make an informed decision.
WHAT SHOULD I CONSIDER WHEN HIRING A CONTRACTOR?
To be confident in the advice and quality of work you receive, we recommend requesting quotes from at least three different contractors. This will help you understand what's needed for a successful installation and receive the best value for your investment. Sometimes a contractor will prepare a project quote using available satellite and street imagery, but to ensure accuracy, the contractor will need to visit your home or business to assess the site conditions and surrounding area.  
When evaluating potential contractors, you'll want to determine if the company you're considering has experience installing solar PV systems. Don't be shy with your questions! You need to be able to count on the company to competently manage your installation from design, to installation, to flicking on the switch.
If you're applying for a rebate through our Solar Rebate Program, you'll need to hire a registered Efficiency Manitoba contractor. They must hold an electrical contractor's licence and offer you a workmanship warranty. They should also be able to provide you with proof of general liability insurance coverage. Go to our online supplier directory for a list of registered Efficiency Manitoba contractors.
Need some more advice on hiring a solar contractor? Check out our article on general tips for picking a contractor.
INSTALL A SOLAR PV SYSTEM & GET A REBATE
If you've determined that installing a solar PV system is a wise investment for you, we can help. Through our Solar Rebate Program, we offer $0.50 per direct current (DC) watt installed on homes and businesses connected to Manitoba Hydro's grid, up to a maximum of $5,000 per home and $25,000 per business. Rebates are available for system sizes of up to 10 kW per home and 50 kW per business. You can install solar PV systems larger than this; however, the rebate will be capped at 10 kW per home and 50 kW per business.
LOOKING FOR MORE INFORMATION?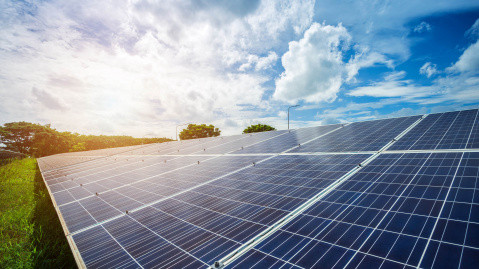 ---