EARTH DAY: CREATING A SUSTAINABLE FUTURE
UNDERSTANDING ENERGY EFFICIENCY & HOW YOUR HOME USES ENERGY
Earth Day is a day dedicated to encouraging individuals, businesses, and governments to take action to preserve the environment we live in. It's more important than ever to recognize our impact on the planet and start taking steps now to create a sustainable future for generations to come, and we're here to help.
We're a Crown corporation dedicated to energy efficiency. We offer programs and rebates to help you save electricity and natural gas, and have a team of experts to assist you in making homes, businesses, and communities more energy efficient. 
If you want to make energy efficiency upgrades but aren't sure where to start, we can help! Understanding what energy efficiency is and how your home uses energy are the first steps to reducing your energy consumption, saving on your monthly bills, and creating positive change for the environment we live in. 
WHAT IS ENERGY EFFICIENCY?
You've probably heard the term "energy efficiency" before. We hear things like "be more energy efficient" or "use energy more efficiently" — but what does that mean?  
Energy efficiency is about using less energy to do the same job and get the same (or better!) result. We want to ensure the electricity and natural gas we consume go toward a specific job, like heating our homes or powering appliances, instead of going to waste.  
Many Manitoba homes, businesses, and communities use more energy than required. There are ways to reduce wasted energy while still being able to comfortably live, work, and play. We want to work with you to save energy, money, and the environment. It's a win all around!  
ENERGY EFFICIENCY PRODUCES REAL BENEFITS
Energy efficiency isn't just a buzz phrase or a passing trend. It's a set of changes and behaviours that produce long-term results, both individually and collectively as a province.  
There are lots of benefits of using energy more efficiently: 
Lower energy bills  
Reduced greenhouse gas (GHG) emissions  
Improved indoor comfort  
Reduced maintenance costs  
Improved operations (for businesses)  
Increased opportunities for green job creation  
FACTORS THAT AFFECT ENERGY USE
Everyone uses energy differently. A family of five living on a farm will likely have a much different energy bill than a single person living in a high-rise apartment. Here are some common factors that can impact your consumption:  
Age of your home (older homes tend to have less insulation and other energy efficient features than newer homes)  
Square footage of your home (larger homes tend to use more energy)  
Number of people in your household (more household members means more energy consumers)    
Individual behaviours (your thermostat settings, hobbies, and habits can all impact energy use)  
AVERAGE HOME ENERGY USE IN MANITOBA: THE NUMBERS
To help you understand how the average Manitoban consumes energy, we've gathered some data from Natural Resources Canada to show the breakdown for Manitoba homes and how Manitobans consume electricity and natural gas: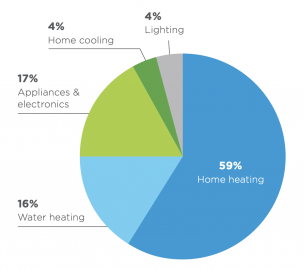 The average home can expect to see 75% of their monthly energy bill go towards home and water heating. Other energy consumers including lighting, appliances, electronics, and air conditioning come in a distant second. The breakdown for electrically heated and natural gas heated homes is nearly identical. 
If you're looking to cut your energy costs, it's a good idea to look at your biggest consumers first — that is, your heating systems.   
HOW DOES YOUR HOME USE ENERGY?
To find out how your home uses energy, take our virtual energy review. It's an online tool that gives you an overview of how much energy your heating systems are using and what you can do to take some of the load off your energy bill. Simply create an account and answer a few questions about your home — the tool will generate a customized energy use report and recommend energy-saving opportunities that make sense for you. Plus, it's free and only takes about 10 minutes. 
PROGRAMS TO HELP YOU SAVE
Efficiency Manitoba wants to make your energy efficiency upgrades easy! We offer two programs that can help you save on heating costs: 
Our Energy Efficiency Assistance Program offers free and subsidized upgrades to qualifying households. You can receive free insulation and a subsidized high-efficiency natural gas furnace upgrade when replacing a standard or mid-efficiency natural gas furnace.
Making sure your home is properly insulated is one of the best ways to reduce your energy bills. If your home was built before 1999, it may not have enough insulation. Through our Home Insulation Rebate, homeowners can receive money back on insulation costs. Check to see if you and your project qualify and be sure to receive approval on your project before purchasing materials or starting any work. 
SMALL CHANGES, BIG IMPACT
In celebration of Earth Day, we encourage you to incorporate these simple, energy-saving habits into your everyday routine:  
Switch to LED light bulbs and be sure to turn off the lights when you leave a room. 
Adjust your thermostat by three degrees warmer in the summer or cooler in the winter for at least eight hours per day. 
Turn off and unplug devices when you're not using them or use an advanced power strip. When you shut down a main device, like your computer or TV, it'll also shut down any connected devices plugged into the power strip, like printers and gaming consoles. 
With warmer weather on the way, open your windows for a slight breeze rather than using your air conditioner. 
Wash your clothes in cold water and hang them outside to dry instead of using your clothes dryer. 
We're here to help you be as energy efficient as possible. You can find expert advice, informative articles, and programs and rebates throughout our website that'll help you save energy and money for years to come.