Home Insulation Rebate
QUALIFY. INSULATE. GET A REBATE.
Your home may not have enough insulation, especially if it was built before 1999. Adding insulation to your home will help reduce your energy bills and improve the comfort of your living space. We provide rebates for attics, walls, and foundation walls.

Steps to Participate
QUALIFY

Find out if your home and project are eligible. Then, apply through a registered contractor or retailer. Your contractor or retailer will help you fill out the application and submit it to us for approval. Be sure to receive approval before purchasing materials or starting any work including removing drywall, stucco, or insulation. A pre-verification inspection at your home might also be required. Check out our online supplier directory to find a registered contractor or retailer in your area.

INSULATE

Once your application is approved, purchase and install your insulation. Your materials must be purchased from the contractor or retailer you were approved with. You have 12 months to do so from the date your application was approved.

GET A REBATE

After your insulation is fully installed and paid for, your contractor or retailer will help you complete and submit the final documents. Once we've received your documents, we'll finalize your rebate amount based on your application and invoicing and send you your rebate cheque. A post-verification inspection may be required to finalize your rebate amount.

DO YOU QUALIFY?
You're the homeowner with an active Manitoba Hydro account in your name.
The home is your primary residence or the primary residence of your tenant and is occupied year-round.
Your home is built before 1999.
You haven't started the insulation work yet, purchased materials, or removed any drywall, stucco, or insulation.
Your home hasn't previously received a rebate for the area you're applying for.
Your contractor or retailer is registered with Efficiency Manitoba.
PROJECTS THAT AREN'T ELIGIBLE
Garages, sunrooms, porches, or verandas
Seasonal homes, cottages, or cottage conversions
Homes that are under construction or renovation
Projects that replace existing insulation
Apartments, vacation rentals, or outbuildings
Converting unheated spaces to heated spaces
Projects that are in progress or are already complete
Mobile home skirting
---
INSULATION REQUIREMENTS
To qualify for a rebate, projects must be a minimum of 100 square feet per area and meet the original and final R-value requirements. Rebates are calculated based on the formulas outlined in the following table up to a maximum of 100% of the insulation material cost required for the project (including tax).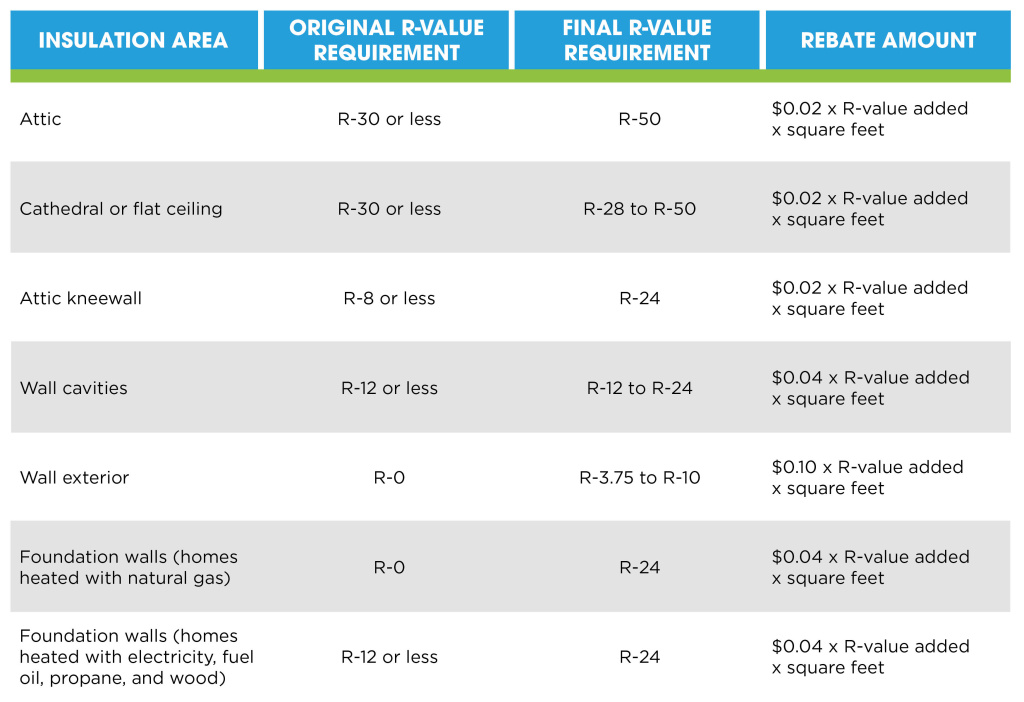 *Rebates won't apply to insulation added above the final R-value requirement.
Insulation materials must have thermal properties (R-value) in accordance with current recognized Canadian standards prepared by the Construction Materials Centre (CCMC). Rebates are calculated based on the R-values from the CCMC reports. Reports by other third-party agencies must be approved by Efficiency Manitoba to determine eligibility.
---
RESOURCES
Looking for more information? Check out these resources to learn more about home insulation.
EVEN MORE HELP IS AVAILABLE
If you're interested in financing your insulation project, you can apply for Manitoba Hydro's Home Energy Efficiency Loan in addition to receiving a rebate from Efficiency Manitoba. Be sure to apply for financing before you start any work, including purchasing products.
You may be eligible for additional rebates and financing through the Canada Greener Homes Initiative. As a Canada Greener Homes Initiative participant, you wouldn't need to have a post-audit completed to apply for our Home Insulation Rebate.
If you're a renter or a homeowner on a limited income, you may be eligible for the Energy Efficiency Assistance Program or Métis Energy Efficiency Offers. These programs offer additional free and subsidized energy efficiency upgrades for qualifying households.
ARE YOU A BUSINESS OWNER?
You can apply for an insulation rebate through our Building Envelope Program.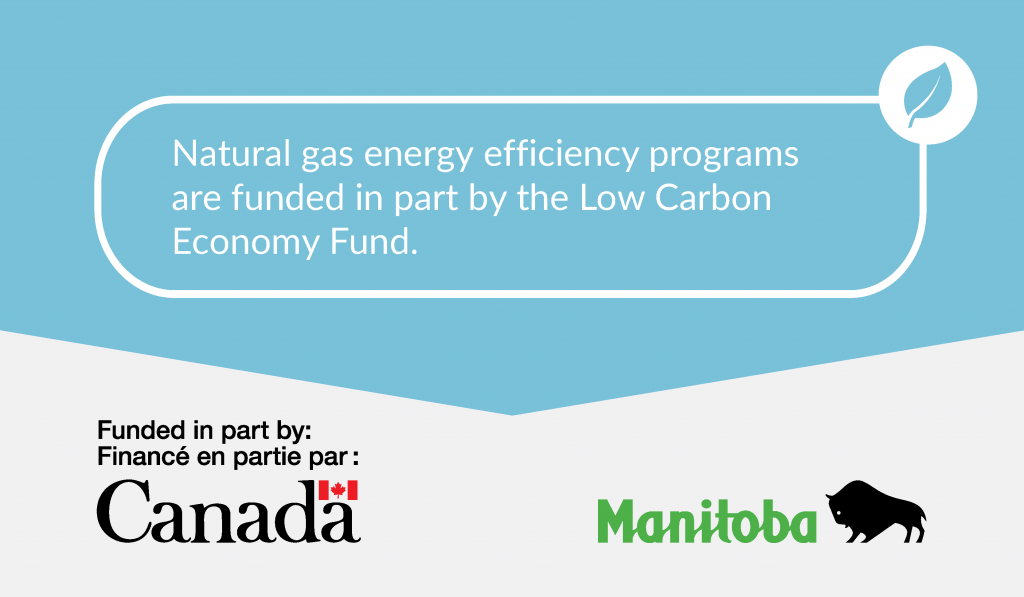 Learn more about the Low Carbon Economy Fund.