Project feature: Supremex
SUPREME SAVINGS THROUGH OUR CUSTOM ENERGY SOLUTIONS PROGRAM
SupremeX is a leading North American manufacturer of envelopes and a growing provider of paper-based packaging solutions for large national and multinational customers. Sustainability is an important part of their business model, and they continuously monitor and take steps to reduce their environmental impact.
SupremeX saw an opportunity to make the vacuum system at their Winnipeg facility more energy efficient, so they reached out to us to see how we could help support the project. We were happy to provide them with a financial incentive and technical expertise through our Custom Energy Solutions Program. 
THE PROJECT
Their original vacuum system consisted of four 75 hp (horsepower) modulating vacuum pumps. Although the system was in good working condition, it was outdated and inefficient. We worked with SupremeX to determine the best upgrade for their vacuum system to save energy: a new high-efficiency 100 hp variable-speed drive vacuum pump. The old 75 hp vacuum pumps remain as base load units and backup. 
The original vacuum system required three 75 hp vacuum pumps (a total of 225 hp) to run all day and night. The upgraded system requires the new 100 hp vacuum pump and one of the 75 hp vacuum pumps (a total of 175 hp) during the day, and just the 100 hp vacuum pump during the night, resulting in impressive energy savings. 
THE SAVINGS
The upgraded vacuum system resulted in verified annual energy savings of 433,000 kilowatt-hours (kWh). As a result of the upgrade, SupremeX can save close to $27,000 on their annual energy costs.
Not only will SupremeX save energy and money on their energy bills, we also provided them with an incentive of $51,000 to help offset the cost of the upgrade. Additionally, the new system is likely to have lower maintenance costs and improved reliability.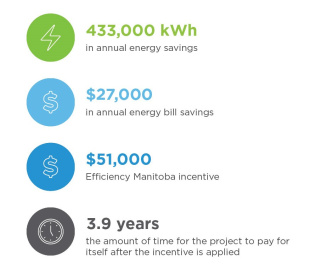 "SupremeX is committed to environmental sustainability, and we're always looking for ways to save energy in our operations. Working with Efficiency Manitoba to upgrade our vacuum system was easy and the staff were very knowledgeable. We're already enjoying our new vacuum system and the savings that come with it."

Hayden Kent
Plant Manager, SupremeX
ARE YOU LOOKING TO MAKE YOUR FACILITY MORE ENERGY EFFICIENT?
If you're interested in making your industrial, commercial, or agricultural facility more energy efficient, we're here to help. We have the expertise to assist in identifying energy-saving opportunities and financial incentives to help you implement your project.   
---