Contractor feature: Transcona Roofing
HELPING MANITOBANS SAVE WITH OUR BUILDING ENVELOPE PROGRAM
At Efficiency Manitoba, we're committed to offering programs and incentives that help all Manitobans save energy and money. One of our programs designed to help businesses improve their energy efficiency is our Building Envelope Program. We offer financial incentives to businesses that make upgrades to their building envelope including roof and wall insulation, windows and doors, and curtain wall systems. So, when Transcona Roofing was approached by Holy Cross School to complete upgrades to the school's roof, they didn't hesitate to recommend our Building Envelope Program.
THE PROJECT
Holy Cross School, established in 1925, is an independent Catholic school for children in pre-kindergarten to Grade 8. Located at 300 Dubuc Street in St. Boniface, the school has expanded over the years and today has multiple buildings for more than 400 students.
"Some of the buildings go back to the 1940s, with minor upgrades here and there," says Adam Kaminski, Director of Operations at Transcona Roofing. "Upgrading the roof insulation was a huge factor because so much heat is lost through the roof."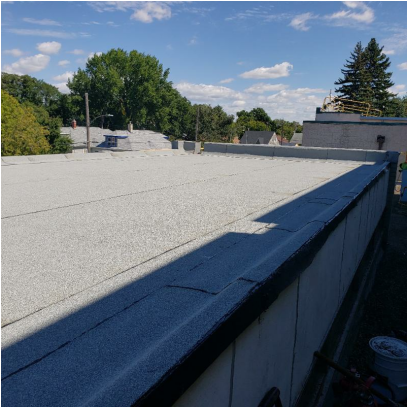 After Transcona Roofing completed the roof insulation upgrades, Holy Cross School will realize 1,900 kWh in electricity savings and 10,000 m³ in natural gas savings each year. They'll also reduce their greenhouse gas emissions by 19 tonnes annually – this one project has taken the equivalent of four cars off the road each year.
"We see a lot of waste in our industry and doing whatever we can to lower our carbon footprint or help the environment in any way is a benefit for us as well. We can sleep well knowing we've helped in whatever way we can."

Adam Kaminski
THE COST SAVINGS
Besides environmental benefits, Kaminski says a top motivation for Holy Cross School, and other Building Envelope Program participants, is the cost savings.
"It's tough to turn down free upgrades," Kaminski remarks.
Not only will Holy Cross School save more than $3,100 each year on their annual energy bill thanks to their new roof, we also provided them with an incentive of $26,454 to cover the cost of insulation materials.
TRANSCONA ROOFING'S GREEN OUTLOOK
Offering the Building Envelope Program has also been good for Transcona Roofing's business, Kaminski says.
"It's a good way to get in the door with a customer. Everyone is looking to figure out ways to help the environment and lower emissions," Kaminski tells us. "It might be something that's not completely visible to the owner, so we can provide that information and knowledge. Realizing that the customer can lower their cost and increase efficiency is sort of an easy sell as a contractor."
Transcona Roofing is a full-service roofing and waterproofing contractor. Since 1959, the company has grown from two to more than 100 employees who service Manitoba, Saskatchewan, and Ontario.
Over the next 10 years, Kaminski says Transcona Roofing is looking forward to embracing energy-efficient designs.
"We realize that something has to change. The industry is not sustainable with the way it goes right now," he says. "I know there are buildings that have energy-efficient designs, whether it's through a LEED (Leadership in Energy and Environmental Design) certification program or Efficiency Manitoba programs, but the industry as a whole has to do better."
HOW THE BUILDING ENVELOPE PROGRAM HELPS CONTRACTORS
Kaminski has worked for Transcona Roofing for seven years. He learned about our Building Envelope Program through our multiple contractor presentations that explained our program and how contractors like Transcona Roofing can get involved.
"We've been promoting the program ever since on any sort of projects that we take on where we see value in both the efficiency and cost to the owner,"

Adam Kaminski
To determine if the Building Envelope Program is a good fit for a client, Kaminski says Transcona Roofing analyzes the condition of their building's existing roof, including the age and the current insulation levels. From there, they start the design.
The Efficiency Manitoba team is available for technical assistance and expertise throughout the project. Kaminski says our representatives have met at the building site to help with the design or clarify how to help the customer optimize their energy efficiency and savings.
For insulation projects, the program often covers the entire cost of insulation materials. Window and door incentives generally cover the difference in cost between a "regular" window and an energy-efficient window.
ARE YOU A BUILDING OWNER?
Building owners or their contractors can apply for financial incentives through our Building Envelope Program on our website. We need to approve your project to make sure it meets the eligibility requirements, and you'll receive your incentive after the upgrades are complete.
ARE YOU A CONTRACTOR?
We highly encourage you to join our supplier network. You'll be listed on our website as a registered Efficiency Manitoba supplier and can offer our programs to your customers. You'll also have access to training opportunities and materials offered by our team of experts and can promote our energy efficiency programs in your advertising. The best part? It's free to register and participate! 
---