COMMERCIAL ENERGY AUDIT PROGRAM
An energy audit is commonly the first step in identifying key opportunities for building owners to reduce their energy consumption (and save money!).
We offer financial incentives and technical support for building owners that complete ASHRAE (American Society of Heating, Refrigerating and Air-Conditioning Engineers) Level 2 or 3 audits for eligible commercial buildings.
Through the Commercial Energy Audit Program, you'll be able to select a consultant from our pre-qualified list to perform an energy audit at your commercial building. After the audit, you'll receive a detailed report summarizing energy-saving opportunities for your building's envelope, lighting, and heating, ventilation, and air conditioning (HVAC) systems, as well as the Efficiency Manitoba incentive programs that are applicable to you.
AVAILABLE INCENTIVES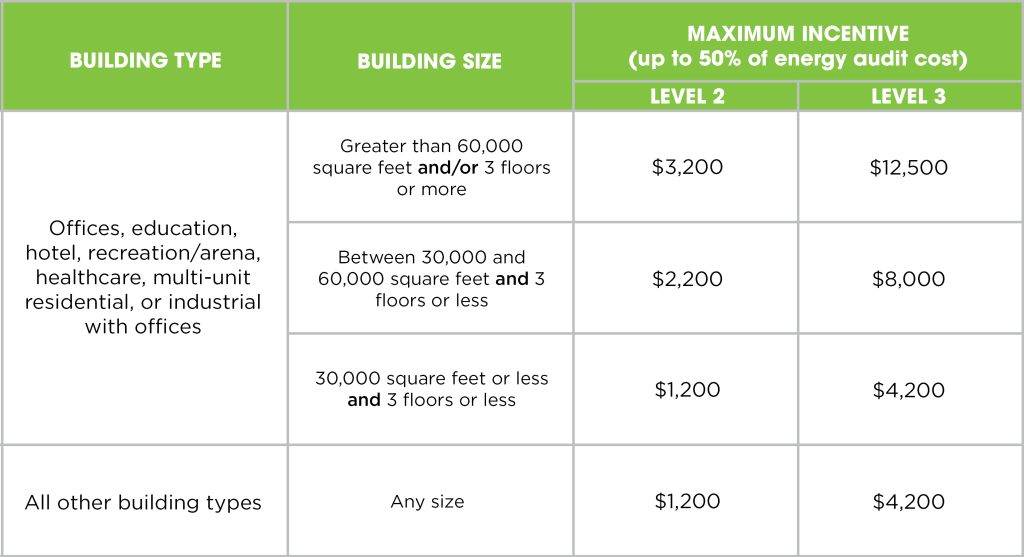 For building owners interested in an immersive and intensive energy review process that includes the implementation of low-capital energy-saving measures, check out our Enhanced Building Operations Program. This program helps identify energy-saving opportunities and optimizes your facility's daily operations by fine-tuning existing systems and equipment operations.
For building owners interested in pursuing incentives for specific energy-saving measures related to process loads within their industrial building, you may also be eligible for our Custom Energy Solutions Program.
ASHRAE LEVELS 2 & 3
Having an ASHRAE Level 2 energy audit completed on your building can provide the following information:
Energy savings and costs analysis of practical energy efficiency measures that are aligned with your constraints and budget criteria
Potential changes to your operation and maintenance procedures
Possible major capital-intensive upgrades that would require more rigorous engineering analysis through a Level 3 audit
Selecting an ASHRAE Level 3 energy audit would provide all the above information, plus:
Greater in-depth analysis of the cost and energy savings results related to the proposed major capital-intensive upgrades
DOES MY PROJECT QUALIFY?
The building is used in a commercial capacity.
The energy auditor is a pre-qualified consultant.
The building owner is a current Manitoba Hydro customer paying a commercial service rate.
The building is being heated primarily by electricity or natural gas supplied by Manitoba Hydro.
The application must be approved prior to on-site assessment work.

Steps to Participate
SUBMIT AN APPLICATION

Submit an online application. Applications must be submitted by the building owner or building owner's representative. 

RECEIVE APPROVAL & SELECT A PRE-QUALIFIED CONSULTANT

We'll review your application and send your approval by email. After your application is accepted into the program, log into myEM and select your energy auditor from the list of pre-qualified consultants. You'll have six months to complete the energy audit for your commercial building.

COMPLETE THE ENERGY AUDIT

Once the energy audit is complete and conforms to the Program Requirements guidelines, the building owner or energy auditor will log into myEM and upload the Draft Energy Audit Report.

MEET TO REVIEW THE ENERGY AUDIT REPORT

Once our team has reviewed and approved the Draft Energy Audit Report, the consultant will present the Final Energy Audit Report to the building owner and review the energy efficiency opportunities. After this meeting is held, we'll require the Final Energy Audit Report signed by the energy auditor, meeting minutes, and a copy of a paid invoice to be uploaded via myEM.

RECEIVE YOUR INCENTIVE

Once we review and approve the program deliverables, we'll issue the incentive payment to the specified payee.

APPLICATION INSTRUCTIONS
If you need help submitting your online application, selecting your pre-qualified consultant, or uploading program deliverables, check out our "how-to" videos for step-by-step instructions.