Project feature: Kelsey School Division
HELPING MANITOBANS SAVE WITH OUR BUSINESS LIGHTING PROGRAM
Our Business Lighting Program offers incentives to businesses that make energy efficiency upgrades to the lighting in their buildings.  
Kelsey School Division completed lighting upgrades at several of their schools and we provided them incentives to help cover the material costs! 
THE PROJECT
Kelsey School Division consists of six schools, ranging from kindergarten to adult education, in The Pas.  
The school division recently completed energy-efficient lighting upgrades at École Scott Bateman Middle School, Kelsey Community School, Mary Duncan School, and École Opasquia School. With the help of our incentives, they upgraded the fluorescent fixtures inside the schools with LEDs.  
LEDs use much less energy than fluorescent fixtures. They also last longer, resulting in less maintenance and less disruptions to the classroom. LED fixtures fit the same space as fluorescent fixtures, making installation easy.  
THE SAVINGS
Across these four schools, Kelsey School Division will realize a total of 85,000 kWh in annual electricity savings! This will save an impressive $4,000 a year on their energy bills. We were able to provide over $20,000 in incentives for these projects. For a limited time, we're offering an additional 25% customer bonus on all lighting projects. Apply before March 31, 2023 to take advantage of this offer. 
"Efficiency Manitoba made energy-efficient lighting upgrades possible. The projects covered under the program would not have been considered without the incentives. The bonus 25% payout gave me even more incentive to finish my project."

Chris Paterson
Maintenance Electrician, Kelsey School Division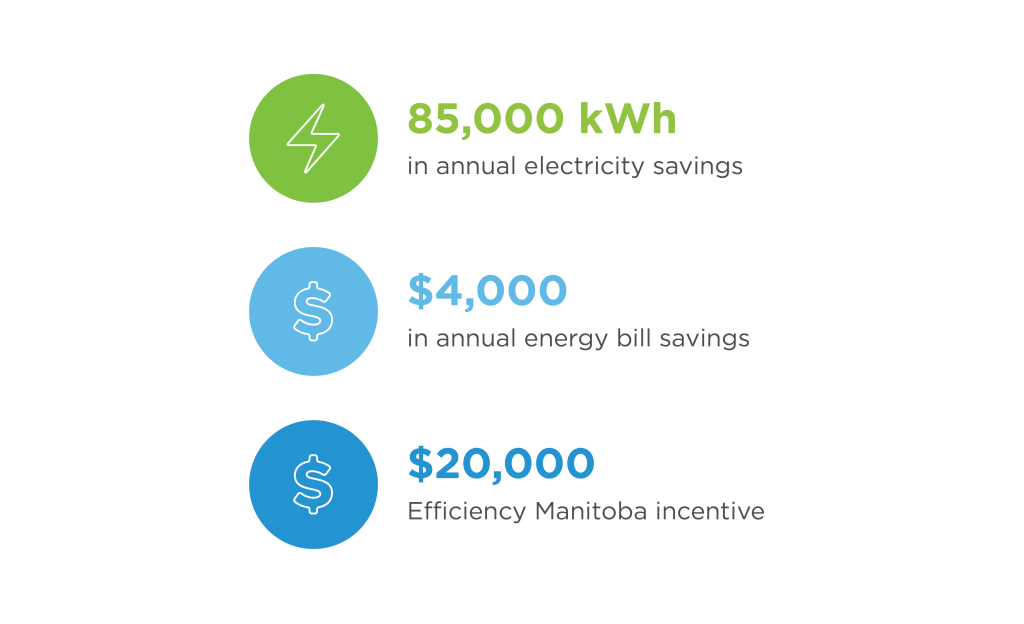 THE PROCESS
Applying for incentives is easy with our new online application system, myEM. Building owners can apply on their own, or their lighting suppliers or contractors can apply on their behalf.  
Once you log into our system, you fill out your project information. We review your project details and send you your approval. Then you can get started with your installation. 
Once your lighting is installed, upload your invoice to myEM. We'll process your application and send you your cheque! 
Our team will work with you if you have any questions along the way. We want to help you get your project done as quickly and efficiently as possible.  
"Approval and payment of incentives were very quick," remarks Paterson. 
ARE YOU A BUILDING OWNER?
Building owners or their lighting suppliers or contractors can apply for financial incentives through the Business Lighting Program on our website. Check out our program guide to see our incentive rates and eligibility requirements. 
ARE YOU A LIGHTING SUPPLIER OR CONTRACTOR?
We highly encourage you to join our supplier network. You'll be listed on our website as a registered Efficiency Manitoba supplier and can offer our programs to your customers. You'll also have access to training opportunities and materials offered by our team of experts and can promote our energy efficiency programs in your advertising. The best part? It's free to register and participate!  
---