Project feature: Kansteel Manufacturing Inc. & Nickel Electric Ltd.
HELPING MANITOBANS SAVE WITH OUR BUSINESS LIGHTING PROGRAM
Our Business Lighting Program offers incentives to businesses that make energy-efficient upgrades to the lighting in their buildings.  
Together with Nickel Electric Ltd, Kansteel Manufacturing Inc. upgraded their shop lights and we sent them an incentive!
THE PROJECT
Kansteel Manufacturing was established in 1985 and specializes in the fabrication of metal vessels and tanks. Located at 2005 Pacific Avenue in Brandon, they serve customers in the mining, agricultural, and chemical industries across Canada.
Inside the shop, they recently upgraded their old metal-halide lighting with new LEDs through our Business Lighting Program.  
LEDs use much less energy than metal-halides and provide a safer working environment. They also provide a better quality of light and reach full brightness immediately. 
"Our new shop lighting is excellent. The old metal-halides took a long time to warm up when turned on. The safety aspect of good lighting is evident. We don't have dark corners and shadows on our workpieces."

Miles Haukeness, P.Eng
Kansteel Plant Manager
THE SAVINGS
The new shop lights will result in 9,000 kilowatt-hours (kWh) in electricity savings each year! As a result, Kansteel will save $500 per year on their energy bill.  
We provided them with an incentive of $4,000 plus a bonus customer incentive of $1,000 for a total incentive of $5,000. For a limited time, until March 31, 2023, we're offering an additional 25% customer bonus on all lighting projects.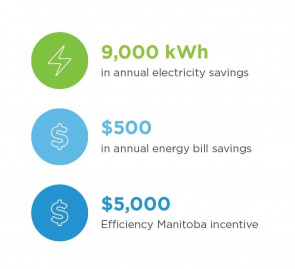 THE PROCESS
Applying for incentives is easy with our new online application system, myEM. Building owners can apply on their own, or their lighting suppliers or contractors can apply on their behalf.  
Nickel Electric Ltd. has been providing electrical services since 1974. They serve residential, commercial, and industrial customers in the Westman area and have submitted many Efficiency Manitoba applications on behalf of their customers.  
"Our lighting contractor was very thorough and helped us through the process. We are very happy with the results," Haukeness remarks. 
When an application is submitted by a contractor, they collect and supply all the project information and invoicing. The building owners are sent a link to sign the application, but no log-ins or accounts are required. Once the project is complete, we send the incentive cheque—it's that easy! 
"[We've] actually had a few clients notice the new lighting and I advised them to check out [this] program", says Haukeness. 
ARE YOU A BUILDING OWNER?
Building owners or their lighting suppliers or contractors can apply for financial incentives through the Business Lighting Program on our website. Check out our program guide to see our incentive rates and eligibility requirements. 
ARE YOU A LIGHTING SUPPLIER OR CONTRACTOR?
We highly encourage you to join our supplier network. You'll be listed on our website as a registered Efficiency Manitoba supplier and can offer our programs to your customers. You'll also have access to training opportunities and materials offered by our team of experts and can promote our energy efficiency programs in your advertising. The best part? It's free to register and participate!  
---