PROJECT FEATURE: GRACE CHRISTIAN CHURCH
BRIGHT SAVINGS THROUGH OUR BUSINESS LIGHTING PROGRAM
Our Business Lighting Program offers financial incentives for buildings in the commercial, industrial, and agricultural sectors for completing energy-efficient lighting upgrades in their buildings. Here's how one recent customer upgraded their lighting through the program and realized some bright savings.
THE PROJECT
When Grace Christian Church was considering upgrading the lighting in their church, their contractor, Direct Connect Electric Inc. was eager to recommend our program.
Their project was extensive — not only did they upgrade the lighting on the exterior of the church to LEDs, they also tackled the interior of the building. They upgraded their old T12, halogen, and incandescent fixtures to new LED fixtures in the front entrance of the church, the chapel, as well as in the function rooms, washrooms, and maintenance room.
Plus, they took their savings a step further by installing occupancy sensors in the washrooms! Installing lighting controls, like occupancy sensors, results in even more savings. They sense when a space is occupied and turn the lights on when someone enters. When the space is empty, the lights are turned off, meaning energy isn't being used when it's not necessary.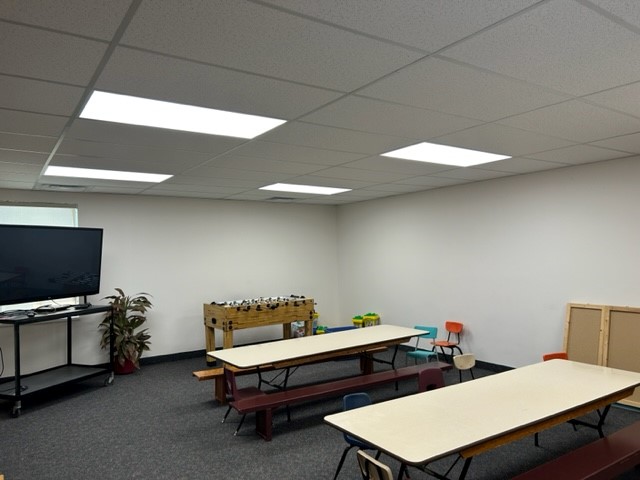 THE SAVINGS
Because of their upgrade, Grace Christian Church will save over 90,000 kilowatt-hours (kWh) of electricity every year, which equates to an estimated $4,600 in annual energy bills savings. Plus, we were able to provide them with an incentive of over $10,000! This includes the 25% customer bonus we're currently offering on all lighting projects.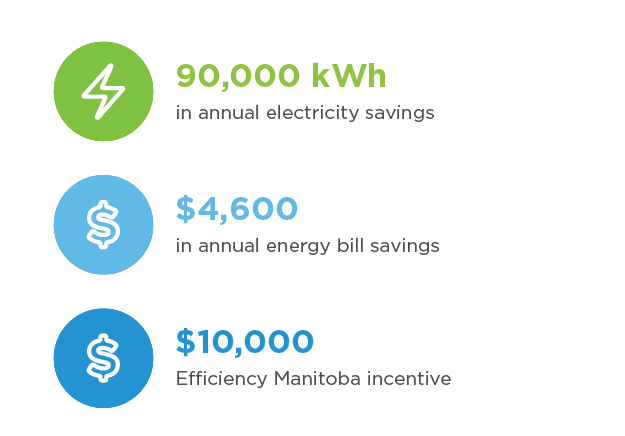 Applications completed by the customer before March 31, 2024 will receive the 25% customer bonus — so if you've been considering a lighting upgrade, now's the time to do it!
THE PROCESS
Applying for incentives is easy with our new online application system, myEM. Building owners can apply on their own, or their lighting suppliers or contractors can apply on their behalf.   
Direct Connect Electric Inc., has been serving homes and businesses in Winnipeg since 2008. They helped Grace Christian Church every step of the way, from walking them through the benefits of our program, to applying on their behalf, completing the upgrade, and submitting the paperwork.
"Our electrician actually steered us toward Efficiency Manitoba. It was incredible how seamless and painless the process was from application to inspection and the short length of time it took to receive the incentive."

Rick Hofer
Manager, Grace Christian Church
Once the upgrade was complete, Grace Christian Church signed off on the completion and their incentive cheque was sent!
"It was incredibly easy", says Hofer.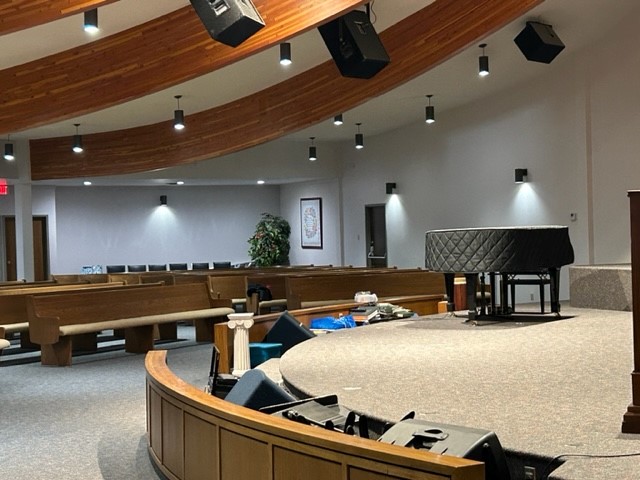 ARE YOU A BUILDING OWNER?
Building owners or their lighting suppliers or contractors can apply for financial incentives through the Business Lighting Program on our website. Check out our program guide to see our incentive rates and eligibility requirements. 
ARE YOU A LIGHTING SUPPLIER OR CONTRACTOR?
We highly encourage you to join our supplier network. You'll be listed on our website as a registered Efficiency Manitoba supplier and can offer our programs to your customers. You'll also have access to training opportunities and materials offered by our team of experts and can promote our energy efficiency programs in your advertising. The best part? It's free to register and participate!