ALL ABOUT AIR SOURCE HEAT PUMPS
HOW THEY CAN HELP YOU SAVE ENERGY
Lower your home energy bill and reduce your carbon footprint with an air source heat pump, one of the most energy-efficient heating and cooling systems.
Air source heat pumps use up to 30% less energy than standard electric heating. They're more efficient than electric baseboards because they don't actually generate heat; rather, they transfer heat in the air from one place to another. Air source heat pumps are designed to efficiently regulate the temperature in your home, meaning you don't need to manually adjust your thermostat. Instead, you can set it and forget it—saving you time and energy!
HOW AN AIR SOURCE HEAT PUMP WORKS
An air source heat pump typically has an indoor unit and an outdoor unit. As air travels between the units, a compressor circulates a high-pressure liquid refrigerant that absorbs and releases heat—the same process as your refrigerator. In winter, heat is pulled from the outdoor air to warm your home. In the summer months, it works in reverse to push warm air outside to cool your home.
CONVENTIONAL VS COLD CLIMATE
There are two kinds of air source heat pumps: conventional and cold climate. While conventional heat pumps shut off when the outdoor temperature reaches -10°C, cold climate heat pumps can operate down to -30°C, depending on the manufacturer's specifications. For that reason, cold climate air source heat pumps are recommended in Manitoba.
It's important to note that when it becomes too cold outside, an auxiliary heating source is required to maintain the warmth in your home. Air source heat output and performance is significantly reduced as the temperature decreases. Ice can build up on the outdoor unit and automatically activate a defrost cycle. This reverses the air flow, pushing warm air through the outdoor coil to melt built up ice. It should take only a few minutes.
WHICH TYPE IS RIGHT FOR YOU?
Air source heat pumps come in centrally ducted and ductless models. The best design for your needs depends on your existing heat source and building size.
CENTRALLY DUCTED
A centrally ducted heat pump uses forced-air ducting to distribute heating and cooling throughout your home. This allows air to reach individual rooms and heat the whole house. Modifications to your existing ducting may be required to support the heat pump system.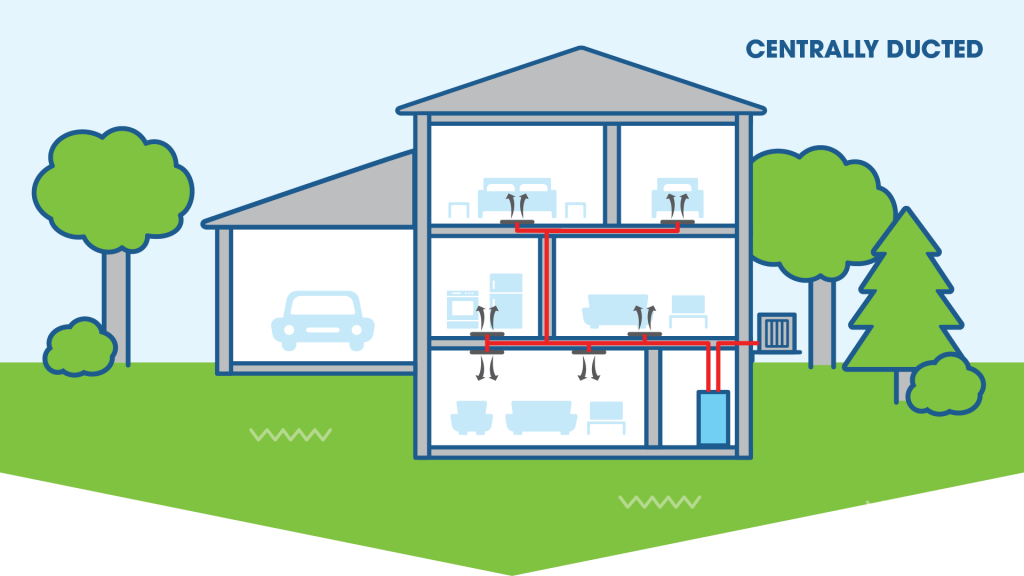 DUCTLESS
If your home uses heating from baseboards or a radiator, you likely don't have ducting installed. In this case, a ductless air source heat pump would suit your needs.
Ductless units can sometimes be referred to as either mini-split or multi-split. A mini-split heat pump has one outdoor unit and one indoor head, usually mounted on the wall. To warm your entire home, multiple indoor heads would be required. This is called a multi- split.
A ductless air source heat pump is also a good option if part of your home requires additional heating and cooling or has an open concept floor plan. Keep in mind they're also generally more affordable as they don't require ductwork.
DUCTLESS MINI-SPLIT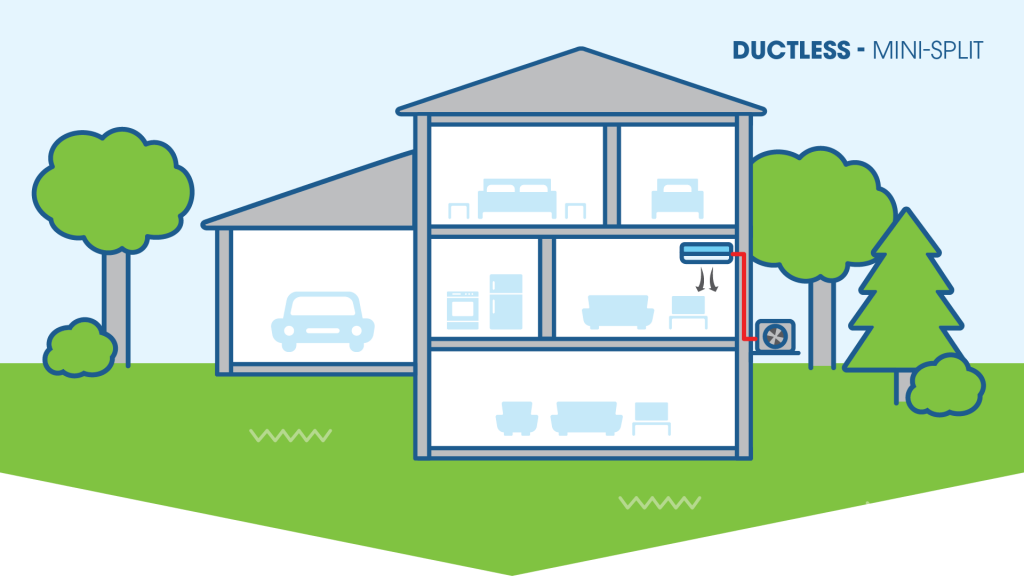 DUCTLESS MULTI-SPLIT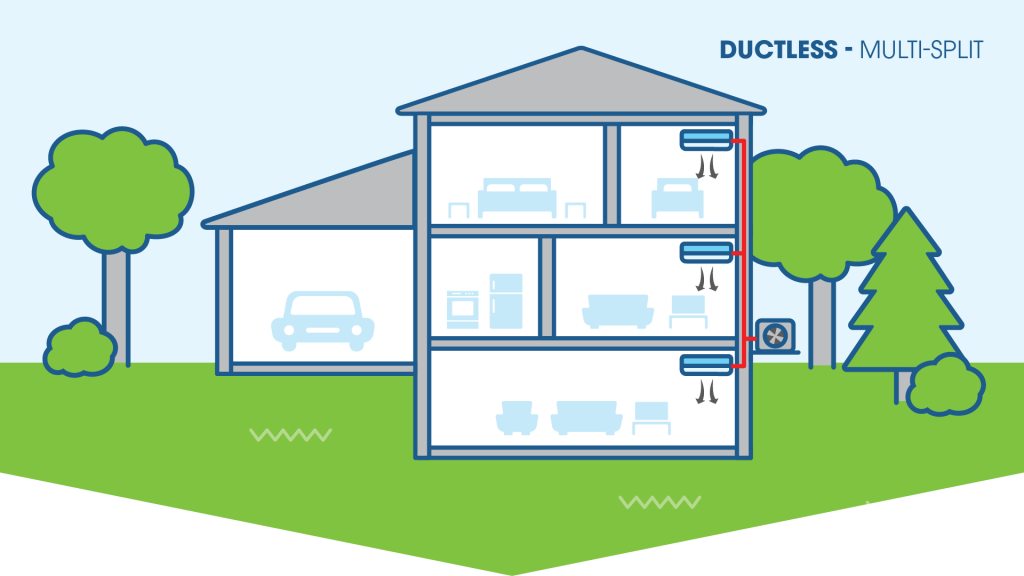 NEXT STEPS
To capture the full potential of your air source heat pump, your home must be well insulated. Any air leaks can let out heat and reduce the efficiency of your new heating system. You may want to ask your contractor if there are any improvements you should make before upgrading to an air source heat pump.
Once you're ready to upgrade your heating system, we recommend getting quotes from at least three of our registered suppliers. The cost of installing an air source heat pump depends on the type of system, existing heating equipment, and ductwork in your home. An air source heat pump system is more expensive to install than a conventional heating and air conditioning system, but your annual heating costs will be lower than electric, propane, or fuel oil heating.
---
We also offer rebates for air source heat pump installations! Learn more about our Heat Pump Program and see if you qualify.