A SUSTAINABILITY MILESTONE: EFFICIENCY MANITOBA CELEBRATES OVER ONE MILLION ENERGY-EFFICIENT PRODUCTS REBATED AT PARTICIPATING RETAILERS
Manitobans are encouraged to access instant rebates at select retail locations until November 16, 2023
Efficiency Manitoba is proud to announce the milestone achievement of having rebated over one million energy-saving products through their seasonal in-store instant product rebate campaigns. This translates into approximately 23.4 gigawatt-hours (GWh) of electricity savings, positively contributing to Efficiency Manitoba's energy savings targets. The electricity saved through the campaigns to date is enough to heat approximately 1,500 homes in Manitoba for one year.
As one of over 40 offers tailored to help Manitobans save energy and money, Efficiency Manitoba provides seasonal point-of-sale product rebates at participating retail locations. The objective of these particular product rebates is to encourage Manitobans to make purchases that will help them save money on their utility bills. Via Efficiency Manitoba's coordination with retailers throughout the province, the prices of select products are reduced instantly at the point of purchase, making participation easy and convenient.
"Providing rebates on energy-saving products is a great way to make life more affordable for families while helping Manitoba meet our climate targets," said Tracy Schmidt, Minister of Environment and Climate Change. "I look forward to working with Efficiency Manitoba to explore further ways to expand access to sustainable options for Manitobans."
Instant rebates are currently being offered on over 1,100 individual products, providing a wide variety of options for consumers. Eligible product categories include ENERGY STAR® certified specialty LED bulbs and fixtures, dimmers, motion sensors, timers, outdoor plug timers, energy-efficient showerheads, window and door insulating film kits, weatherstripping, and ENERGY STAR certified smart thermostats. Beyond energy efficiency, these products also provide additional benefits like improved lighting quality, reduced drafts, and a more comfortable living environment.
"We're very excited that so many Manitobans are seeing the value of making energy-efficient purchasing decisions," said Colleen Kuruluk, CEO of Efficiency Manitoba. "The purchase of energy-efficient products might feel small, but as made apparent by this milestone, the cumulative effects are making a significant impact on reducing energy consumption in Manitoba. This achievement is made possible by the participation of our retail partners across Manitoba, and we're grateful for all the hard work they put in to make each of our instant rebate campaigns successful."
Best Buy, Canadian Tire, Costco, Federated Co-operatives, Home Depot, Home Hardware, McMunn and Yates, and WM Dyck & Sons are participating in the current campaign, totaling 79 retail locations in over 40 Manitoba communities. Retailers and Efficiency Manitoba work together closely to make the shopping experience as straightforward as possible for customers. All retailers receive Efficiency Manitoba-branded point-of-purchase materials to label eligible products and promote the instant rebate offer in general, increasing customer awareness and encouraging the sale of energy-saving technologies.
"Participating in Efficiency Manitoba's instant rebate campaigns has boosted our sales and we've received positive feedback from our customers," said Arthur Zotovas, Plumbing and Electrical Sales at WM Dyck & Sons in Niverville. "Efficiency Manitoba has designed their rebates to be easy to understand for both our business and customers by providing us with great signage that we display across our store, and their representatives answer all our questions with swiftness. I don't think we'd be seeing the type of sales we've had if it wasn't for these rebates. It's a great initiative for our customers to save money and make their homes more energy efficient."
Efficiency Manitoba's current instant rebate campaign runs until November 16. Eligible products are available at select participating locations of the listed retailers while quantities last. The specific selection of eligible products varies by retailer and store location — see store for details. A list of eligible products and participating retail locations can be found at efficiencyMB.ca/instantrebates.
One million rebated products, by the numbers*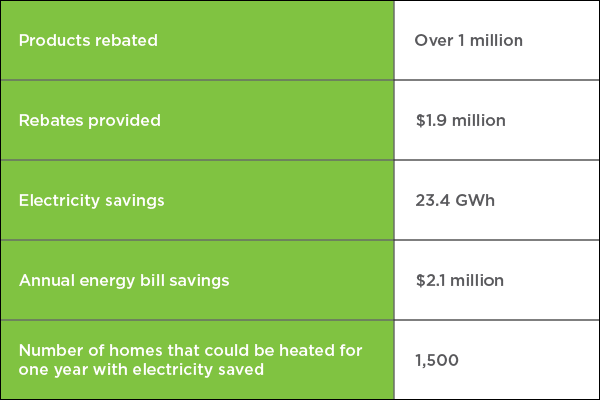 *Sales figures and rebate dollars are approximations based on interim sales data provided by participating retailers. Energy and bill savings figures are based on averages from historical consumption data and current energy rates respectively.
About Efficiency Manitoba
Efficiency Manitoba is Manitoba's Crown corporation dedicated to energy efficiency. With legislated long-term energy savings targets to achieve, the organization has over 40 diverse programs and offers available to help Manitobans save energy, money, and the environment.
Release date: November 1, 2023