Home Energy Retrofits
COMPREHENSIVE HOME RENOVATION PROJECTS WITH DEEP ENERGY SAVINGS
If you're planning an extensive home renovation that will significantly reduce your home's energy usage, your project could qualify for rebates through our Home Energy Retrofits.
Each home is unique, so you'll need to have an EnerGuide home evaluation completed by an energy advisor. They'll identify energy saving opportunities that are suitable for your home, and you'll receive a recommended upgrade report to help plan your major retrofit and achieve substantial energy savings.
HOMEOWNER REBATE
You can receive a rebate of $75 per gigajoule (GJ) saved up to the typical new home GJ rating and $150 per GJ saved beyond the typical new home GJ rating.
Your rebate is based on your home's total annual energy reduction achieved through your renovation project. Check out our rebate explainer for more information and to learn how to calculate your rebate.
STACKING BONUS
We offer a $250 stacking bonus to applicants who participate in both our Home Energy Retrofits and the Canada Greener Homes Grant.
BENEFITS OF HOME ENERGY RETROFITS
There are many benefits to undertaking a home energy retrofit:
Significantly reduced energy bills and long-term cost savings
Improved occupant comfort and indoor air quality
Reduced maintenance costs and activities
Increased resilience to climate change
Reduced carbon footprint and environmental impact
Increased resale and property value
Check out our program guide for more information.

Steps To Participate
GET AN ENERGUIDE EVALUATION

Contact a service organization that serves your area. They'll send an energy advisor to conduct an EnerGuide energy efficiency evaluation on your home.

APPLY AND PLAN

Send us your EnerGuide evaluation documents and tell us a bit about your planned retrofit project. You must apply before you or your contractor start the work.

COMPLETE YOUR PROJECT

Once the work is done, your energy advisor will conduct a final evaluation and measure the energy savings of your retrofit project.

GET A REBATE

Send us your final documents and we'll give you a rebate based on the total energy savings of your retrofit project.

DOES YOUR PROJECT QUALIFY?
It's a residential, detached, duplex, or triplex home.
You're the owner of the home.
The home is occupied 12 months per year (seasonal residences aren't eligible).
The home uses electricity or natural gas supplied by Manitoba Hydro.
You have an EnerGuide evaluation of your home completed and you apply before starting any work.
Your project will significantly reduce the site energy use.
At least 50% of the site energy use reduction will come from building envelope component upgrades. These include all components that separate the interior (conditioned space) from the exterior, such as walls, attics, windows, and doors.
PROJECTS THAT AREN'T ELIGIBLE
Projects that are already underway
New homes and seasonal properties
Projects that don't involve building envelope improvements and upgrades
Projects that don't involve energy efficiency upgrades
NET ZERO & PASSIVE HOUSE
Are you interested in upgrading your home to be Net Zero, Net Zero Ready, or to meet the Passive House standard?
We can help you reach your goals and maximize your rebates in the process.
LEARN MORE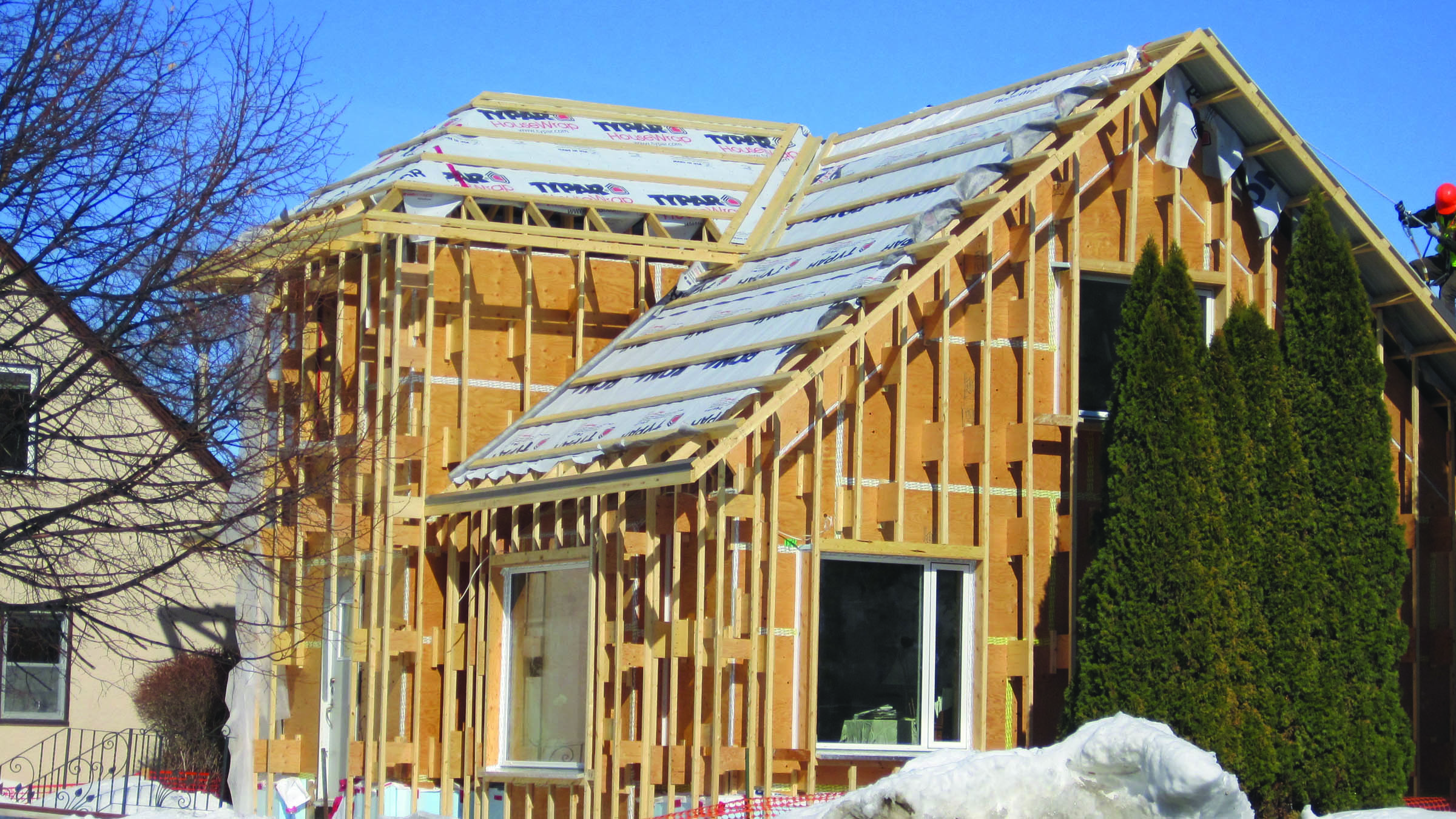 If you're interested in reducing your energy usage and lowering your monthly bills, a deep energy retrofit and our Home Energy Retrofit program can help you get there.
Continue Reading…
EVEN MORE HELP IS AVAILABLE
MANITOBA HYDRO
We work in partnership with Manitoba Hydro to offer financing for energy efficiency upgrades. Qualifying homeowners may be eligible for financing to assist with the cost of home energy retrofits through Manitoba Hydro's Home Energy Efficiency Loan.
CANADA GREENER HOMES INITIATIVE
You may be eligible for additional rebates and financing through the Canada Greener Homes Initiative. To learn more, visit the Canada Greener Homes Initiative web page.