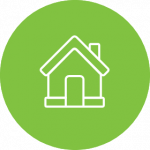 New Homes Program
For Homeowners
We'll help you build a Certified Energy Efficient new home, with two ways to participate:
Prescriptive Path
$1,200 Rebate
Do it yourself or hire a builder
Incorporate ten energy saving upgrades in your project
Receive official certification for your project from Efficiency Manitoba
Your new home will be about 20% more energy efficient than comparable new homes
Performance Path
$1,500 – $12,000 Rebate
Design assistance and detailed energy modelling provided
Select any upgrades, materials, or equipment you want to include in your project
Receive an official EnerGuide label and home energy report from Natural Resources Canada
Enjoy bigger rebates (up to $12,000!)

3 Simple Steps To Participate
CHOOSE YOUR PATH

Choose a participation option that fits your project and goals. Or, contact us so we can recommend the path that will best fit your project.

DESIGN YOUR PROJECT

With assistance from an energy modeler (if you choose the Performance Path) or your contractor (on the Prescriptive Path), design your new energy efficient home! Be sure to send us your Application Form and your design drawings before significant work starts on the project.

GET A REBATE

When your home is complete, we'll provide an in-home evaluation and third party air tightness testing free of charge. You'll receive official certification and your rebate shortly after our visit.

Your Home Qualifies If
It's a residential occupancy home or building
It has a maximum of 3 storeys, with a footprint no larger than 600m2
It's a new construction project, not an addition or renovation
It will use electricity or natural gas from Manitoba Hydro
You contact us or apply before work starts
Get Cash Back
Homes certified under the New Homes Program are automatically eligible for a partial mortgage insurance premium refund from Canada Mortgage and Housing Corporation (CMHC) and Genworth Canada.
Prescriptive Path: 15% premium refund
Performance Path: 15 to 25% premium refund
You have 24 months from the closing date of your mortgage to apply. For more information or to apply now, visit CMHC or Genworth.