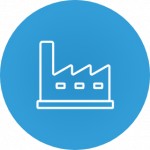 Energy Efficiency Assessments
Industrial, commercial and agricultural facility assessments that show you how to save energy (and money!)
An Energy Efficiency Assessment is the easiest business decision you'll ever make. For a service that costs nothing, it may save you a lot!
Understand & Improve Your Energy Usage
By completing an assessment, together we'll clearly outline how to improve your business's energy efficiency while reducing monthly bills. We will identify the programs and incentives that are available to you and provide most value for your business.
Analyze your current energy consumption patterns
Walk-through your site and identify major energy inefficiencies
Breakdown your current energy usage
Identify energy savings and any relevant incentives that are available to you

Participating is Simple!
ANSWER A FEW QUESTIONS

Complete your online Energy Efficiency Assessment questionnaire so we can learn more about your facility.

PLAN SITE VISIT

We'll review your questionnaire, and reach out to you with questions we have. Then, we'll plan an in-person site visit and facility assessment.

REAP THE BENEFITS

After the site visit, we'll guide you towards the programs and incentives we think are the best fits for your facility. We'll give you all the information you need to start applying and saving!